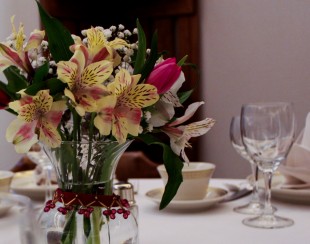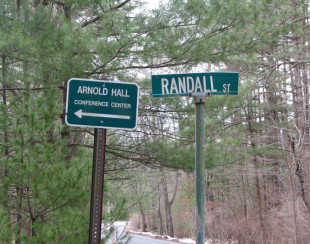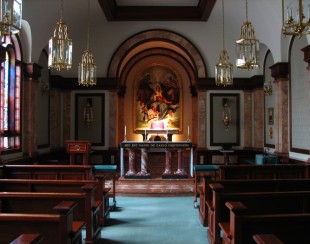 Checking In
The Director's room and office are on your left as you enter Lockwood or on the right as you enter the Court House. Your room assignment will be given to you upon arrival. Lockwood has an elevator and facilities for persons with disabilities.
Payments
Click here to make your retreat reservation online. You can pay either in full, or you can reserve your space with a $50 non-refundable deposit by clicking on the appropriate button on the "Retreat Sign Up Form".
When you are done filling out the form, you will click "Make Payment" and be re-directed to Paypal to enter your payment information. Once online payment is complete, you will receive a confirmation email.
If you initially signed up online, you also have the option to pay your balance due online prior to your arrival.  The confirmation email contains a link that says "When you are ready to pay the balance, please return to PayPal via this link."  Click this link and follow the instructions.
For reservations that are mailed in, we accept Visa and Mastercard as well as personal checks made out to "Arnold Hall".
In all cases, any payment balance due will be collected by the staff during your stay.  For special payment arrangements, please speak with the Director.
If you are able to pay an extra amount as a donation to assist others in attending workshops or retreats at Arnold Hall, your generosity will be greatly appreciated.
Wifi
Wifi is available in the common areas (classroom, sitting room, library, foyer).
Smoking
Arnold Hall maintains a smoke free environment. Please smoke outside the buildings or in the connector between Lockwood and the Cottage.
Baby Care/Laundry
There is a Hospitality room with a washer, dryer and small appliances located in the Cottage for your use.  Upon request, High Chairs can be provided for the Dining room.  Room #3 is wired for broadcast from the Oratory. There is a baby monitor kept on hand in case of need.
Water
The tap water is from the municipal water source and is fine for all use. There are also bottled water dispensers located in Lockwood and Courthouse.
Housekeeping
Every room has sheets and two pillows on the bed, towels and an extra blanket in the closet. Each bedroom in Lockwood has its own thermostat which can be adjusted for your comfort. Cleaning times will be posted for the building you are using, during which the rooms should not be occupied.
Meals and Dining room service
The three scheduled meals are served family style, with the help of a waitress.  In order to help the staff, please arrive promptly to meals, and limit meal times to 35 minutes. The following medically prescribed diets are accommodated if requested. Please indicate this on the reservation as well as inform the director when you arrive.
Low cholesterol, low fat, low sodium
Lactose intolerance
Bland (low spice, low acid)
Food Allergies
Gluten Free
Diabetic
We do not provide special diets for vegan or vegetarian diets. There is usually enough food for people who follow this diet to eat salad, vegetables and fruit.
For those who need special snacks or food, besides soy milk, it is advisable that they bring their own items and pass them to the Administration upon arrival with any indications of special note.
A snack is served outside the dining room each evening and coffee is available for early risers. We ask that no food items be stored in the bedrooms.
Books
Books for sale can be found in the breezeway on the way to the dining rooms. Cash or checks made out to "Arnold Hall" can be placed in the payment box.  Massachusetts sales tax is included in the selling price of each book.